"This site contains affiliate links to products. We may receive a commission for purchases made through these links."
If you are in a rush and want to skip ahead to our number one choice for wall-mounted cat stairs, look no further than AVEEN Wall-mounted Cat Bridge
Cats love taking the high ground. Climbing is part of their primal instincts, so it goes beyond playtime hobbies.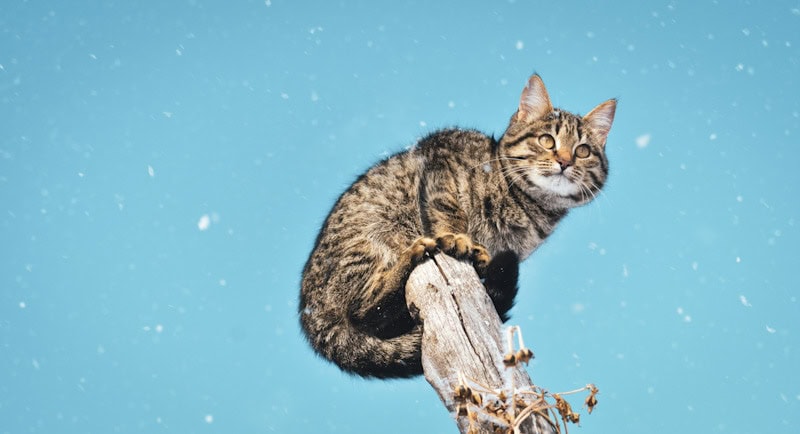 If you want to find better, space-saving, and preferably less expensive ways to keep your cats happy indoors, keep reading. We will cover all bases, from DIY cat wall shelves and steps to the best wall-mounted cat stairs in the market.
In this article, we also reviewed 5 of the best wall-mounted cat stairs on the market. To be specific, we will cover:
Description of Wall-mounted Cat Stairs
Benefits of Wall-mounted Cat Steps/Shelves
Features of Wall-mounted Cat Stairs
How To Make Wall-mounted Cat Stairs Safe
Perhaps you would prefer to go straight to the products we reviewed, check them out below:
Description of Wall-Mounted Cat Stairs
Wall-mounted cat stairs or steps are cat care accessories mounted on walls to provide a safe space for cats to express their primal urge to climb and enjoy their privacy. Cats love to observe the world around them from a safe place above the ground. Meeting this need makes you a sensitive cat parent and your cat a happy one.
Benefits of Wall-mounted Cat Steps/Shelves
There are lots of benefits your cat will derive from using steps, shelves, perches, or stairs mounted on walls. Some important ones include:
Helps your kitten or older cat access a favorite spot – If you have kittens that may be too young to reach high places or cats of older age that can no longer jump like they used to, wall-mounted stairs can assist them. If you observe your cat dodging high places, it might be time to consider getting wall-mounted cat stairs. Cat shelves also provide added mobility and recreation for your furry friend.
A territorial and safe habitat – Cats love their privacy. No matter how spacious your home is, your kitty still wants a corner that belongs to him. Cat shelves are most useful in multi-cat families. Wall-mounted cat stairs can meet that need. It also helps to establish a social hierarchy.
Helps to save space – Cat trees and towers occupy significant space. If you live in a small apartment, a safely fitted system of wall-mounted cat shelves may be just what you need. DIY cat steps may come in handy for temporary or long-term use. They provide a great climbing experience without having to lose already limited space.
Expandable and adjustable – You do not have to spend a lot of cash to get a complete set of cat stairs. You can order various pieces as needed or as your pocket can support.
Features of Wall-mounted Cat Stairs
We have just discussed why you should use cat stairs, so we will talk about the features to consider when looking to buy wall-mounted cat stairs for your kitty.
Safety: It is crucial to ensure that any cat steps you mount on the wall for your kitty are safe. I measure safety in terms of weight-bearing, prevention of slips, and not having loose parts that can cause your cat to fall from high places.
Design: You would probably want to go for a style that blends right in with your interior decorations.
Ease of installation: If you are not a handyperson, consider cat stairs that are easy to install on your walls. Most cat steps require you to install them on studs or drywall. You may need some help to find studs in your wall.
Ease of climbing: Out of the 3 most common cat tree rolling materials, AVEEN Pet Life's R&D team finds jute the easiest for cats to climb. Sisal is a suitable material, but the percentage of failed attempts at climbing is higher for cats with clipped or polished nails. You should bear that in mind when you want to buy cat stairs.
Ease of maintenance: Maintenance is necessary if you hope to keep the stairs for a significant length of time.
How To Make Wall-mounted Cat Stairs Safe
Even the safest of cat stairs can become unsafe in certain conditions. You need to maintain the safety of your cat(s) by:
Performing routine checks on all installed pieces to ensure they are still sturdy.
Replacing screws or anchors where necessary
Replacing worn-out hammocks
DIY Wall Mounted Cat Stairs
If you enjoy making your stuff and want to create some amazing wall cat perches, I highly recommend checking out this video (from a fellow cat lover), explaining the process step-by-step.
Our Roundup Reviews
PetFusion Cat shelves boast a simple, elegant, and interactive design that helps to improve your kitty's health through exercise. If your cat loves to perch in high spots, this may be a good fit. The sisal surface is durable for cat scratching. The neutral design and color tone blend in with any interior decor. The material provides stimulation for young kittens and older cats with no age discrimination. With PetFusion cat activity wall shelves, your kitty can stretch, scratch, jump, climb, perch, lounge, and play.
| | |
| --- | --- |
| Pros ✔️ | Cons ❌ |
| Simple and nice design | Suggested setup may not work for your Cats |
| Configurable shelves | You may need to get extra steps |
| Quality zinc anchors | The product may come in a terrible shape |
| Non-slippery surfaces | Pricey |
| You can purchase pieces separately | |
TRIXIE's wall-mounted cat lounging set is the latest in cat tree design. It is ideal for small or modern apartments as it saves a lot of space. Your kitties will explore new heights with this set of two perches, a cushion-lined condo, and an ultra-plush hammock. Durable sisal wraps each item neatly to engage your frisky feline. You are free to create the perfect solution for your cat by mix-matching the parts. The removable cushion allows for machine washing.
| | |
| --- | --- |
| Pros ✔️ | Cons ❌ |
| Aesthetically pleasing design | Screws may need replacement |
| Removable and hand washable cushion | The frame may break under the weight of a fat cat |
| Very fair pricing | Sisal scratching surface may be difficult to climb if your cat just got the nails polished |
FUKUMARU Cat Climbing Shelf provides a multi-level design that will satisfy the instinct of your cat to climb. The wall-mounted cat shelves give your kitties a delightful environment that keeps them active and happy. If you are looking to save some space in your room, this may be the preferable cat furniture to consider. The 100% wood frame will certainly withstand rough play.
| | |
| --- | --- |
| Pros ✔️ | Cons ❌ |
| Steps are sturdy enough to bear any weight when installed correctly | Steps may be too close together for some cats |
| Most affordable cat shelf I have seen | You need to get better screws and anchors for drywall. |
7 Ruby Road wall-mounted cat hammock is a unique set with a cat wall bridge and steps. It provides your kitties with the perfect spot for catnaps and a pleasant view of the surroundings. The hammock is great for sleeping. I recommend installing this near a window for the best cat view. Installation is easy, and it does not take any time, even without the instructions. Durable jute rope covers each cat shelf for wall climbing.
| | |
| --- | --- |
| Pros ✔️ | Cons ❌ |
| Great aesthetic appeal – looks like a wonderful piece of furniture | You may need to get better screws |
| Reasonable price for materials used | The hammock may slip off the rod easily |
| Sturdy enough to carry the weight of any cat | Drywalls may not hold for heavy cats. Install in studs. |
| Easy to mount | |
AVEEN presents a unique wall-mounted cat bridge that includes 4 steps, fitting perfectly into various home decoration styles. This product helps to increase the activity space of your cat and save some ground space. This cat bridge is one of the few cat wall step products that are environmentally friendly. It has no paint or smell, made of 100% natural solid pinewood board and fiber. Recyclable, it is green for both humans and animals. The cushion cover provides a delightful mix of comfort and functionality. The material used for the scratch column is thickened sisal fabric. Your cat can have a good body friction massage or nail scratch.
| | |
| --- | --- |
| Pros ✔️ | Cons ❌ |
| The solid pinewood board is preferable for high humidity areas | Wall brackets may need replacement |
| Easy-to-climb jute as the scratching surface on posts | Preferable to install on studs |
| Cushion materials provide more comfort | |
| Hide-away cat tree house allows more privacy | |
| Sturdy and spacious enough to carry heavy cats | |
And The Winner Is…
In conclusion, our top pick among the reviewed wall-mounted cat stairs products is the AVEEN Wall-mounted Cat Bridge. We decided on this product because it is environmentally friendly and unique in design. The cat bridge sets it apart as a desirable cat accessory. We hope you enjoyed this article and it provided some value to you.
Happy cat-climbing!
Resources