"This site contains affiliate links to products. We may receive a commission for purchases made through these links."
If you are in a rush and want to skip ahead to our number one choice for High-Calorie Dry Cat food, look no further than Blue Buffalo Wilderness High Protein Grain Free. For High-Calorie Wet Cat food check out Instinct Original Grain-Free Recipe Natural Wet Canned Cat Food
Does your picky cat need to gain weight? Is your cat too skinny? Or perhaps you an older cat that requires more calories? Or a kitten that needs to grow quickly? Or maybe you have a cat with an injured mouth and you need to supply more calories to compensate for the reduced appetite?
You are in the right place.
We reviewed five of the best healthy, high calorie cat foods we could find. We also answered some of the most frequently asked questions on the topic, such as:
How to know if your cat is underweight
What makes a cat lose weight
How to put weight on a cat
Health tips to help a cat gain weight
What to look for in high-calorie cat food for healthy weight gain
If you want to check out the products we reviewed right away, here is a list:
Best high-Calorie Dry Food for Cats:
Best High-Calorie Cat Wet Food :
Best Weight Gain Supplements For Cats:
How to Know If A Cat is Underweight
No, your cat won't tell you he's underweight.
A way to check is to use a body condition score (BCS). A BCS is a chart (such as the one below) that matches the physical conditions of a cat's body to a score. These scores range from 1 to 9 and help to determine if your cat is underweight, healthy, or obese.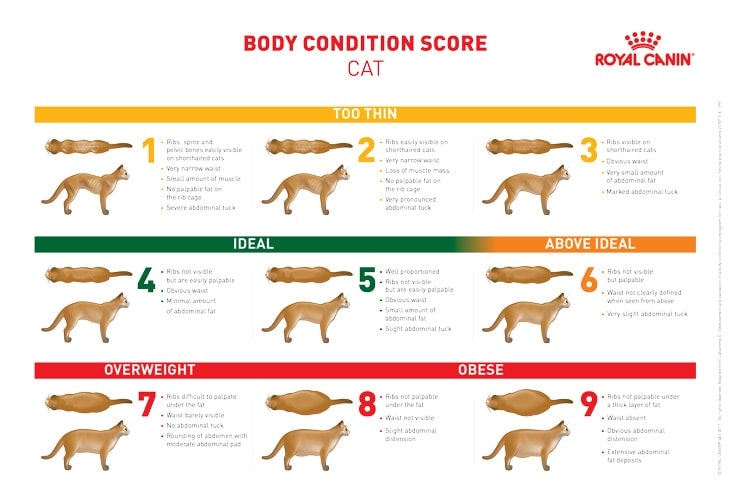 To learn how to use the BCS you can check this helpful guide.
Pro tip: If you can easily count your cat's ribs while touching him, he is likely underweight.
Causes of Weight Loss in Cats
In most cases, cats will lose weight when they suffer prolonged lack of appetite as a result of health problems (anorexia). Another possible cause of weight loss in a cat is malnutrition, which happens if your cat is not eating enough or getting enough nutrients.
For this reason, it is crucial to ensure that your cat is consuming its recommended amount of calories every day. The standard recommendations range between 24 to 35 calories a day per pound, but it is always best to work a diet plan with your vet.
How to Feed an Underweight Cat for Weight Gain
Smaller meals throughout the day
When feeding your cat for weight gain, it is more effective to feed little quantities 3-4 times a day than giving a large quantity all at once.
Heat it up We also find it helpful to warm up the food before serving to get the aroma out and stimulate your kitty's appetite.
Give Kitty some space
It may be tempting to watch your cute cat eating (I'd spend the whole day watching), but some cats may find it stressful.
You can try giving your cat some space when eating and see if they feel more comfortable to eat on their own. This does not mean you shouldn't monitor your kitty, but don't stay on her neck either.
If your home allows, you can go a step further by separating the dining, play, sleeping, and litter areas. Doing that will mimic the conditions that cats are used to in the wild. It will also help to create associations between each place and its activity, making it easier for him to get appetite once he enters his "dining room".
Check the details
Simple things like the plate you use to serve your cat's food may also influence his response to feeding. Try different things (including foods) to make sure you find out his favorites.
If you're planning to change your cat's diet and introduce a new food, it is usually recommended to introduce the new food slowly, gradually increasing the percentage.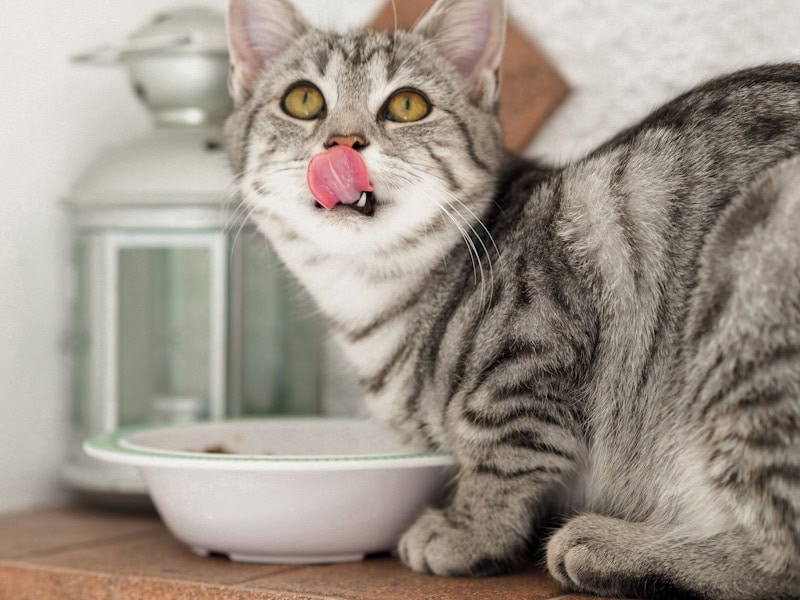 Health Tips to Help A Cat Gain Weight
If your cat recovered from surgery, trauma, or sickness, it is natural that you want him back up with calories as soon as possible.
However, you need to keep in mind your cat's ideal weight (and daily calorie consumption) to make sure you prevent overfeeding.
Ideally, you might want to speak with your Vet about the normal weight levels before you start your kitty on a weight-gain diet.
A good way to prepare your cat's stomach for healthy digestion is to add prebiotics and probiotics. Doing this will help to rebalance their gastric microflora, strengthening the digestive system, and ensuring that they can absorb all the nutrients.
What to Look for in High-Calorie Food For Cats for Healthy Weight-Gain
When planning to make that trip to the pet store, arm yourself with enough knowledge about the food you will buy for your underweight cat.
Yes, it must be high-calorie but we have both dry and wet food options.
It is crucial to note that the percentage protein content of wet foods often seems lower due to increased moisture. To ensure accurate comparisons, you need to calculate the dry-matter protein in wet foods.
Like always, the best lies in the middle. A bit of each.
Dry foods are usually preferable for weight gain because they allow your cat to take in more calories for each bite. Yet, not all cats like dry food.
So if your cat lost weight because of a lack of appetite, it might be easier to help them gain weight with high calorie wet cat food. In addition, cat dry food can predispose to urinary health challenges due to reduced water intake.
If you decide to go only with dry foods, you must make water intake a priority. Cat dry foods are also cheaper and easier to store.
Wet foods, are usually more yummy, they are better for managing urinary and kidney health, constipation, and weight loss.
If your cat doesn't like eating dry food, chances are that you can help her gain weight by feeding her delicious high-calorie canned cat food.
Best High-Calorie Dry Cat Food:
Blue Wilderness dry is a sure deal for any cat.
Made of chicken it helps to feed your feline's wild side and build lean muscle mass. This grain-free cat food is loaded with healthy carbohydrates including peas and sweet potatoes to support your cat's active lifestyle. It also contains omega 3 and 6 fatty acids to support skin and coat health.
This formula also contains BLUE's exclusive LifeSource Bits, a special blend of vitamins, minerals, and antioxidants. Carefully selected by veterinarians and animal nutritionists to support healthy oxidative balance, immune system health, and life stage requirements.
If you are looking for food with the finest natural ingredients, BLUE dry cat food is a great option. No artificial flavors or preservatives, no by-product meals, soy, corn, or wheat.
There are a few things to note if you decide to go for this cat food. Some cat owners have complained about their cats developing urinary health issues, which is a possibility for all dry foods. I would suggest that you get one bag and try with your cat. Aside from providing adequate fresh water, you may also alternate this with the wet variety to increase the water content of the food.
● Crude Protein (Dry Matter Basis) – 43.96%
● Crude Fiber (Dry Matter Basis) – 4.40%
● Calories estimate – 3,832 Kcal/Kg, 443 Kcals/cup


This grain-free dry food is addictive for some cats as it contains the meat that cats crave. Every bite is full of high-quality protein from turkey, combined with nutrient-rich superfoods and nutritional supplements.
Energy, healthy coat and digestion and strong teeth are all part of the package. The mineral content is controlled to support urinary health. All ingredients are non-GMO and wholesome for great nutritional benefits.
As usual, monitor your kitty when introducing this food and transition gradually by adding it to the old food using the instructions.
As it is with every dry food, please make sure you make clean, cool, fresh water available for your cat.
● Crude Protein (Dry Matter Basis) – 50.00%
● Crude Fiber (Dry Matter Basis) – 3.33%
● Calories estimate – 31,816 Kcals/Kg, 3,977 Kcals/cup


Instinct grain-free dry food is a winner with my cats. It contains 81% animal ingredients plus vegetables, fruits, and other wholesome ingredients.
The number one ingredient is cage-free chicken. This healthy cat dry food is high in protein and contains zero grains. Made with probiotics and fatty acids, it supports healthy digestion and skin/coat. Each kibble is coated with freeze-dried raw (natural real meat) for good nutrition and great taste.
Instinct dry food is made in the USA with minimal processing.
● Crude Protein (Dry Matter Basis) – 45.05%
● Crude Fiber (Dry Matter Basis) – 3.30%
● Calories estimate – 4,300 Kcals/Kg, 505 Kcals/cup




Best High-Calorie Wet Cat Food:
This wet variety of Blue wilderness high protein cat food is a great meal for every cat. It contains protein from real chicken and healthy omega-3 fats. So it promotes healthy muscle growth and cognitive development.
The texture and flavor are irresistible for most cats. While all ingredients are natural, enhanced with vitamins and minerals
This cat food does not contain any corn, wheat, soy, by-product meals, or artificial flavors and preservatives.
Blue Wilderness wet cat food seems to be the best option for the old cats, putting some shine on their coats and strength into their muscles and bones.
● Crude Protein (Dry Matter Basis) – 36.36%
● Crude Fiber (Dry Matter Basis) – 9.09%
● Calories estimate – 1,403 Kcals/kg, 3oz. 119 Kcals/can. 5.5oz. 219 Kcals/can. 12.5oz. 497 Kcals/can.


The Instinct Original grain-free is every cat's delight. Made of 95% chicken, turkey & chicken liver, with 5% vegetables, fruits, and whole-food ingredients.
This wet high calorie cat food has no grain, potato, or by-products which are known to cause food allergies. It is packed with animal protein for strong muscles and devoid of fat.
Made in the USA, this delicious wet food can be served as a meal or as treats that even choosy cats will love. It offers balanced nutrition to support your kitty's growth and health.
● Crude Protein (Dry Matter Basis) – 45.45%
● Crude Fiber (Dry Matter Basis) – 13.64%
● Calories estimate – 1,239 Kcals/Kg, 3oz. 105 Kcals/can, 5.5oz. 193 Kcals/can


This wet variety of Wellness Core Cat food is specially formulated to supply a good amount of calories to Cats that need to add some weight.
The Chicken and Turkey recipe is a delicacy for Cats. It also keeps the skin and coat of your kitty healthy, providing a solid first line of defense against infection. The high moisture content keeps your cat hydrated for great urinary health.
However, if you decide to purchase this Cat food, I will recommend that you get it from local stores as there have been reports of poor storage and delivery.
Crude Protein (Dry Matter Basis) – 54.55%
Crude Fiber (Dry Matter Basis) – 4.55%
Calories estimate – 1,324 Kcals/kg, 3oz. 116 Kcals/can 5.5oz. 213 Kcals/can.




Best Weight Gain Supplements For Cats:
This nutritional oral gel is for cats that need extra calories and vitamins. It is very useful for cats that are sick or aging.
The gel stimulates appetite, boosts calorie, and causes weight gain in cats refusing food. What is even more important to note is that it is recommended by veterinarians. This amazing product contains Omega-3 and Omega-6 essential fatty acids that support good heart, joint, and skin health.
Apart from its benefits, its texture makes it easy for cats to take in and digest, providing an easily accessible source of calories. Please note that Nutri-Cal is only intended for supplemental use. It is not meant to replace a maintenance diet.


Miracle Vet provides a great way for your kitty to gain weight. Out of the 150 calories it contains per ounce, 130 are from healthy fats.
The #1 ingredient in Miracle Vet weight gainer is fish oil which contains zero trans fats and has tons of nutritional value. All ingredients are natural and fully disclosed.
The liquid form of Miracle Vet makes it ready to use any time with no shaking or mixing is required, unlike other brands that use liquids or powders that separate when sitting.
As it is with any product, a few cats react adversely to Miracle Vet, so you would want to monitor your kitty when using it. Also, inform your Vet before starting to make sure it doesn't interact negatively with any treatment your cat might be receiving.


This nutritional supplement is great for growing kittens. If your furry friend needs more vitamins and calories, Vetoquinol is a good choice. If you have a finicky or old cat that has a low appetite, Vetoquinol will be of great benefit as it stimulates appetite and boosts calories.
It is rich in omega-3 and omega-6 essential fatty acids and multivitamins. Its palatable taste and texture make it simple to administer and easy to digest.
Note that some cats may not have the best result with this product.




And The Winner is…
If your goal is to rapidly increase your cat's weight, your first choice is to pick a food that she likes eating and to combine dry and wet foods.
The Blue Buffalo Wilderness High Protein Grain Free is our favorite dry food choice. Compared to other high-calorie cat foods, this has the highest percentage of protein and calories. That means with each bite, your feline gets more energy and nutrition. This food will be particularly beneficial to cats with reduced appetite.
As far as the best high calorie wet cat food for weight gain, we'd recommend the Instinct Original Grain-Free Recipe Natural Wet Canned Cat Food (Pack of 12). This food boasts high protein content and calories and is made with wholesome, natural ingredients.
What else could we ask?
We hope you enjoyed this article and that it will help your feline friends gain some extra pounds.
As always, feel free to reach out if you have any questions 🙂
Resources
● A hands-on guide to checking cat weight. Cat Health website https://www.cathealth.com/cat-care/weight-management/1255-cat-check-weight
● The cat health check guide. Purina website https://www.purina.co.uk/cats/health-and-nutrition/exercise-and-weight-management/assessing-your-cats-body-condition
● Risk factors for underweight and overweight in cats in metropolitan Sydney, Australia. Kendy, T. Z. et al. Vol.144, https://doi.org/10.1016/j.prevetmed.2017.05.021
● Cancer in Cats: Types, Symptoms, Prevention, and Treatment, Sandy Eckstein. Fetch by WebMD https://pets.webmd.com/cats/guide/cancer-in-cats-types-symptoms-prevention-and-treatment#1
● Dry Matter basis calculator for pet food. PawDiet Website. https://www.pawdiet.com/articles/dry-matter-basis-calculator-for-pet-food/
● Probiotic and prebiotic treats for cats, Dr. Alison Birken, Sept. 18, 2017. Pet Central Website. https://petcentral.chewy.com/probiotic-prebiotic-treats-cats
● Vitamin K substances and animal feed, Padmakumar B.P. et al. Updated 04/03/2020.FDA websitehttps://www.fda.gov/animal-veterinary/safe-feed/vitamin-k-substances-and-animal-feed
● Vitamin K (menadione) in Pet food. Is it safe? July 8, 2011. http://skeptvet.com/Blog/2011/07/vitamin-k3-menadione-in-pet-food-is-it-safe/