If you are in a rush and want to skip ahead to the best extra large litter box no further than Petsafe ScoopFree Litter Box
Introduction
Cat owners tend to overlook the size of a litter box when out shopping. The sad part is we run the risk of taking home a litter pan that's just too small for your dearest pet.
A big kitty needs an xl litter box to handles its business comfortably.
In this article, we'll review the best extra large litter boxes we found. Here's a preview list:
Why Is It Important To Have An Extra Large Litter Box?
Three words:
Space
Comfort
Security.
A giant litter box allows your cat to move around freely, flex her muscles, or squat. It may also be the best fit for a claustrophobic cat.
Having a cat pee or poop outside the box is the worst nightmare for every cat owner. This sometimes happens because the under-sized litter box is uncomfortable for your big feline. A large litter box eliminates this problem.
A large litter box also helps keep the litter from going everywhere as the cat digs. If this is a big problem for you, you may also want to look into top entry litter boxes, non-tracking litter, and vacuums for cat litter
Do you own many cats? One of the things I like about these litter boxes is I can use it for more than one kitty. Sort of like killing two birds with one stone.
Tips On Buying An Extra Large Litter Box
The Dimensions
Cats love a litter box that large enough for them to climb into and turn around in.
Cats like the Maine-Coon and Ragdoll need bigger boxes. They usually grow up to (and sometimes exceed) the length of the standard litter pans on the market. 
This doesn't mean you go overboard with the dimensions. Find something you can lift, empty, and carry around without breaking your back.
High Walls
A large litter box should have high walls to prevent urine leak to the floor. Moreover, they help avoid spillover as kitty squats inside the cat box for a spot.
Covered Litter Box – Good Or Bad Choice?
There's more to a large litter box than the size. It's also important to select whether to go with a covered (also known as top-entry) option or to leave the top open. Top entry litter boxes have both pros and cons to them.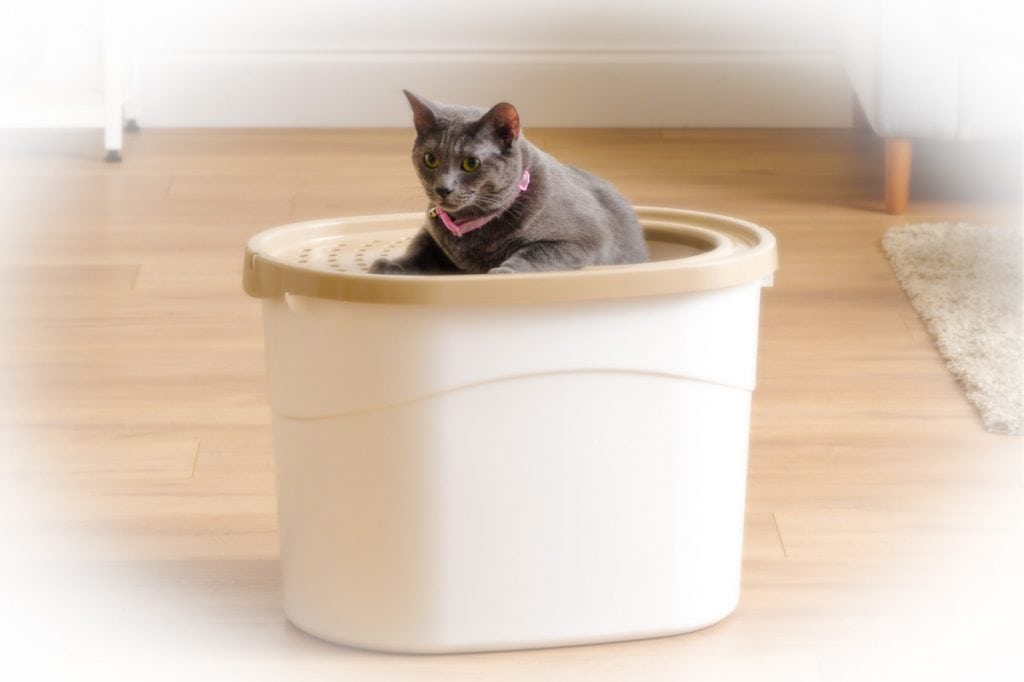 Pros
✔ Help control odors better than uncovered litter boxes
✔ Reduces dust clouds
✔ Less litter tracking
Cons
❌ Reduced ventilation.
❌ Can be hard to clean, especially if the top is irremovable.
❌ Some cats (especially claustrophobic ones) don't like the idea of a top.
The Best Extra Large Litter Boxes
Size: 24.8 x 20 x 16.5inches and weighs 3.21 pounds. The door opening size 8.2 x 7.8 inches.
This covered litter box is wide and long enough for two average-sized cats to sit at a time.
Petphabet cat litter box has a durable plastic to withstand a heavy amount of litter and an extended use. The plastic is also non-stick for easy cleanup.
The large covered litter box features a high-back design to reduce litter scattering as your pet digs for a spot.
It has a spacious, removable hood to provide privacy for your furry feline. The top cover also helps prevent litter from scattering outside the box. The removable hood allows easy cleaning.
This product is all about standing out. You can find it three bold colors – blue, teal, and green. Perfect for a kitten obsessed with aesthetics.
| | |
| --- | --- |
| Pros ✔ | Cons ❌ |
| Removable lid for easy cleaning | Front side is a bit low for a thick layer of litter. |
| Strong and durable material | |
| Attractive colors | |
| Comfortably fits two average-sized cats | |
| Ideal for both young and older pets | |
| No door lid for easy entry | |
The best topless extra large litter box
Size: 23.4 x 18.25 x 11 inches and weighs 1.75 pounds.
The rectangle litter box is large enough to fit multiple cats.
Its special shape is largest at the top and then tapers toward the bottom to keep litter inside and provide plenty of room to your cat.
The lower entrance is kitty-friendly measuring 5 inches from the floor to the lowest part of the opening. It comes with high walls to make it easy for the large cats to uses without kicking litter out.
Nature's miracle cat litter box uses plastic with antimicrobial protection. This prevents odors as well as mold and mildew caused by bacteria to grow on the litter box.
This large litter box also has a non-stick surface hence easy to spot or wipe clean.
Available in black or white.
| | |
| --- | --- |
| Pros ✔ | Cons ❌ |
| Antimicrobial properties | Litter finds its way out the lower entrance |
| High sides | |
| Topless for ventilation | |
| Easy to clean | |
| Lightweight | |
The second world's best cat litter box, as valued by Bustle.com in 2018
Size: 22.6 x 18.1 x 8.1 inches. Weighs 1.8 pounds
An open top litter box for better ventilation.
It features high walls to contain litter and leaks. The entrance is low making it convenient also for older cats.
This extra-large cat litter box uses durable and long-lasting ABS plastic. The material undergoes tests using stringent international safety standards.
It's designed with spacious curves to allow for easy scooping and cleaning.
It has a non-stick coating that reduces sticking by up to 70% according to the manufacturer. The surface also has antimicrobial properties, so it reduces odors.
| | |
| --- | --- |
| Pros ✔ | Cons ❌ |
| Non-stick material | Non-stick coating might lose its effect after time |
| Antimicrobial properties | |
| FDA, EPA approved | |
| Smart and feline-friendly design | |
Voted the best litter box upgrade by The Wirecutter and New York Times.
Size: 20 x 15 x 16.8-inch dimensions.
Weight: 7.05 pounds
A Modkat package comes with one flip litter box, a liner, and a scoop.
The top can be either hooded or flipped open for better airflow.
It features three lid positions – closed, half-open, or fully open. It's all about your kitty's preference.
This large covered litter box uses what the company terms as a patent-pending hook and liner system. It has four hooks and a front clip to keep the liners securely in place. The liners can last up to three months, according to the manufacturer.
The lid design provides quick and easy access for scooping and cleaning. No more removing a big hood to clean the litter box.
Available in gray and white.
| | |
| --- | --- |
| Pros ✔ | Cons ❌ |
| Excellent leak protection | The liner may tend to leak at the seams. |
| 3 lid positions | |
| Reusable liner | |
| Easy to clean | |
| Scoop included | |
The best automatic extra-large cat litter box
Sie: 28.5 x 20.5 x 11.5 – inch.
Weight: 19.55 pounds.
Available in purple, gray, and taupe.
Always on the move? This is the litter for you. It uses ScoopFree technology to clean up kitty's mess on your behalf. Plug the box in, and it's ready for work.
This enclosed litter box uses pre-portioned crystal litter for unbeatable odor control. The crystal litter is really low tracking, with the manufacturer praising them as 99% dust-free. They add that the litter barely sticks on kitty's paws and can last up to 30 days.
Petsafe litter box has disposable trays with plastic linings for exceptional leak protection. Each tray has a lid for quick disposal.
Did someone say "technology"? This litter box has a health counter and motion sensor to track kitty's health and daily usage. The safety sensors also halt the self-cleaning process when your pet is in the box.
Depending on your cat's preference, you can use it as either a hooded or topless litter box. The privacy cover gives your cat a secluded bathroom.
| | |
| --- | --- |
| Pros ✔ | Cons ❌ |
| Automatic waste removal | A bit pricey |
| Excellent leak protection | |
| Easy cleanup | |
| Unbeatable odor control | |
| Monitors your cat's health | |


Conclusion
There you have it! Some of the best extra large cat litter in the market.
I especially liked the Petsafe ScoopFree Litter Box. It has the best qualities if you ask me. Not only does it remove the hustle of having to do the cleaning but also offers excellent odor control. It makes use of pre-portioned crystal litter that is highly absorbent and reduces tracking.
The xl litter box has disposable trays making clean up easy. Just close the tray with the provided lid, and to the bin, it goes.
As if that's not enough, it has a health counter and motion sensors to monitor kitty's health. Not to forget its versatility. You can have it as either a hooded or topless litter box.
This jumbo litter box may be a bit pricey, but with all these features, you'll be getting more than its value.