If you are in a rush and want to skip ahead to our top rated cat tree for large cats look no further than the Cat Tree King, the FEANDREA 67′ Multi-Level Cat Tree
This is sometimes overlooked, but having a modern cat tree at home can truly improve a cat's life (and that of his owner) in many ways. This makes sense, as we all know that cats have a natural instinct to:
climb things (ANY THING)
scratch things (MANY THINGS)
sleep above the ground level.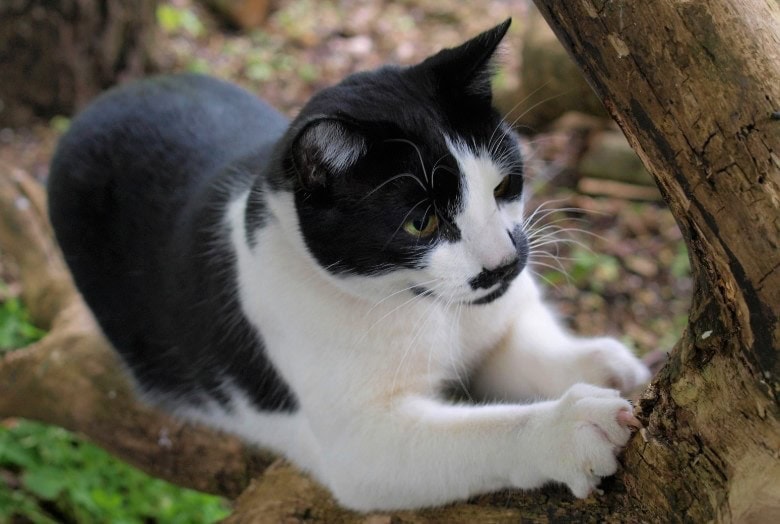 In this article, we'll review the best cat trees for large breeds that we could find
We'll also help you save a ton of time of research by presenting you with the pros and cons of the top cat towers for large cats on the market. We also explain how you should pick one for your cat and how to choose where to place it in your house.
Oh yeah…and of course we'll also go over what benefits you can expect by getting a tree for your cat. Actually, let's start with that!
The benefits of cat trees
Speaking to a few vets, I was very surprised to learn about how many and diverse benefits a modern cat tree can bring to a cat.
Some of these benefits include:
Opportunity to play and get some exercise
Improve mood and decrease anxiety
High vantage point (helps them feel safer)
Expand territory vertically (especially important in smaller houses)
Safe Hiding places (not all cat trees have these though)
Something to scratch and bite (your couch will thank you)
Establish hierarchy (and peace) in a multi-cat household
This makes a lot of sense, as cats have evolved climbing trees outdoors and they "need" to have a way to act on their natural instincts.
The video below explains the importance of some of these very well
How to choose the best cat tree for large cats
With so many options out there, it might be difficult to know where to begin. Most cat trees look pretty cool and fun, and it might be difficult to distinguish the good ones from the average.
Hiding space and multiple levels
As we saw, some of the main benefits of cat trees are safe hiding places and an extended vertical territory. This is why we narrowed our choices to cat condo for large cats that have some sort of cat cave and multiple climbing levels. This last feature will also help to establish peace in multi-cat households.
Tree size and house space
When choosing your cat tower it is important to keep in mind the size of your cat, and the space available in your house. Generally (when possible), the bigger the cat tree, the better. A larger, taller cat tree will, not only hold up your cat's weight better. It will also provide more play and climbing space for him/her (especially in houses with more than a cat).
With cat trees, pictures can be misleading. For this reason, you should make sure to check the measures provided by the manufacturer before purchasing any tree. This will help you avoid ending up with a tree that's too big for the space in your house you were planning to use. I've had a few friends making that mistake who found themselves having to return their products (wasting a lot of the precious time they could have spent watching their cat play with a string!).
Other features
Scratching posts – It goes without saying that your next cat condo MUST have a scratching post. A surface designed for the only purpose of being scratched over time. Scratching posts are usually made with sisal rope, which is notably durable. One thing to consider (especially if you have more than a cat), is to get a cat tree with multiple scratching posts. Having more than a scratching post will make them last even longer.
Materials – Most of the cat trees are made by wood covered with faux fur (similar to carpet), which is very comfy. Yet, depending on your cat's preferences you might want to choose a wood tree (without faux fur). We found that cats who spend most of their time outside will enjoy these more as they'll remind them of real trees.
Toys – Some trees come equipped with toys hanging from above. This might look like a good thing at first, but it could also BE EXTREMELY DANGEROUS. Sometimes cats could get stuck in them and if you are not around to help them the consequences might be bad. Luckily, most often these toys can be detached and removed from the tree. Our advice is to inspect the toys and if you feel that they could be dangerous, to remove them immediately.
Climbing Aids – If you are purchasing a tree for an older cat, you might consider a cat tree that makes it easier to climb. Some of the trees below have some ladders that will help your cat get up there even if his/her golden years are now gone.
How to choose your cat tree location
It is important that before purchasing a cat tree you already have in mind where you are going to place it. The ideal location is a corner of the house that your cat finds appealing. A corner will make it less likely for the tree to tip over. If you place the tree in a basement or another unappealing location, it is possible that your cat won't even consider it.
Also, we've seen many cats loving to spend their time on a cat tree while watching what is going on outside. So if possible, placing the tree by a window could make your cat very happy.
Our top-rated Cat Trees For Large Cats (finally!)
If you've been scrolling down waiting for our top picks, you made it! It's here. If you've been reading along, we hope the information you read is going to be helpful. Or at the very least, will make you sound smart the next time you talk to your cat-obsessed friends.
Best Cat tree For Large Cats And Multiple Cats
If you are searching for a tall cat tree that can support your heavy cat, or the gang of several cats in your house, look no further. This sturdy FEANDREA 67 inches Multi-Level Cat Tree is the best in the game as far as stability and quality. This is a giant tree with plenty of available space and large platforms available to allow many cats on it. It is also available in three different colors: blue, beige, and gray.
This FEANDREA  has high-quality, soft materials helping cats to quickly get comfy on it. One perk of FEANDREA trees is their outstanding customer service. If you find anything wrong or unexpected, don't hesitate to reach out to them. Their customer service team is excellent and will be happy to help you with your problem.
One word of caution about this model. If your cat(s) love scratching more than anything else, you might want to look at some of the alternatives below. The reason is that poles on this model are not entirely covered by sisal rope. So it is possible for your cat to miss the rope and scratch (and damage) the pole fabric.
| | |
| --- | --- |
| PROS ✔️ | CONS ❌ |
| Easy to assemble | Sisal rope not along the entire pole (fabric part could get damaged) |
| Large perches (for large cats) | |
| Pleasant look | |
| Great company (with amazing customer service) | |
| Very stable (no wobbling) | |
Best Modern Cat Tree
We get it, sometimes large cat trees can ruin the ambient and elegance of a house that's remarkably well furnished. Fortunately, we found a beautifully designed, wooden cat tree that your cats will really enjoy too (having the cake and eating it too?).
The Refined Feline Lotus Cat Tower is one of the most uniquely shaped cat trees we could find. Of course, for such a piece of art/furniture, the price tag goes up considerably. Still, we've seen many people happy with this product that we have to recommend it. This tree will improve your cats' well-being, while not compromising on a beautifully furnished house.
With such a price tag, you can bet that the materials are going to be premium and long-lasting. If/when something does wear out with time, you can buy replacement carpets and scratching pads. Which is great news for the more environmentally-minded and for everyone's wallet.
Being made mostly of premium, natural wood, the Lotus Cat Tower will be a great fit for cats who love the outdoors. Finally, to ensure stability and minimize wobbling, this tree has adjustable feet on the bottom.
| | |
| --- | --- |
| PROS ✔️ | CONS ❌ |
| Beautiful wood/minimalistic look | Pricey |
| Wood touch – for cats who love the outdoors | Not easy to climb for older cats |
| Replaceable carpets and scratching pad | |
Best cheap cat tree for large cats
The trees we covered above were both on the high-end of prices. If instead, you are looking to buy a cat climbing tree at a lower price not compromising on quality, this is our pick for you.
This excellent, heavy duty cat tree has many levels and lots of room for many cats to stay on it. The perches are big enough for mid-sized cats to comfortably relax as if they are on an elevated cat bed.
With a much lower price, we cannot expect the quality of materials to match that of more expensive trees. Overall, the quality is good and (depending on how many cats you have) you can expect this tree to last for a good amount of time.
| | |
| --- | --- |
| PROS ✔️ | CONS ❌ |
| Large enough perches | Can get wobbly after some time |
| Good value for money | Materials quality could be better |
| Ladders make it easy to climb for old cats | |
Best cat tree For Older Cats
To those looking for a cat tree suiting a cat who's getting older, we recommend this smaller FEANDREA tree.
Sometimes I've seen some seasoned cats able to get all the way up a tall cat tree and then not being able to get down. Thanks to its ramp and it's short height, this small cat tree would be perfect for an older cat who's losing his ability to climb (both up and down).
The high quality of the materials and the tree's stability will assure that your cat will feel comfortable on it. As we mentioned before, the bonus point of all FEANDREA trees is the company's amazing customer service. Their team will take care of any issue you encounter and do their best to make you happy with your purchase.
| | |
| --- | --- |
| PROS ✔️ | CONS ❌ |
| High-Quality materials | Quite small (not recommended for very large cats) |
| Easy to assemble | |
| Great company (with amazing customer service) | |


Our Top Overall Pick:
After having examined many cat trees, we are confident to say that the FEANDREA 67′ Multi-Level Cat Tree is the best tree out there overall. Considering its price, size, quality of materials and company's amazing customer service, there is nothing quite like it in the market.
We did find one flaw in it, however (in the cons above), and hope that the company will make an effort to improve on that. If they did, this tree would absolutely become a "must" for any cat owner.