Want to skip ahead to my number one choice of diaper for cats? Look no further than the Pet Soft Disposable Diapers.
---
If you're not in any rush, stay with me. Since you're reading this, chances are that you're caring for a sick, elderly, or special needs cat. Regardless, as a fellow cat parent, I appreciate your commitment to helping your cat live his best life. Thank you!
Now, here are my top 5 picks for best cat diapers:
Before we get into the specifics of these cat stud pants, I think it'd be best to go over the situations in which a cat would have to wear one. It might be useful, especially for new parents – I mean, new CAT parents.
Why A Cat Might Need A Diaper
There are a plethora of reasons why your cat might need stud pants, in terms of medical and behavioral issues. Let's focus on the two most common ones: Urinary incontinence and persistent urine making/spraying.
Urinary Incontinence
The first possible reason is cat incontinence. This is a fairly common problem that can be caused by old age, obesity, as well as other conditions such as:
Chronic pain affecting mobility
Renal disease or other urinary tract deterioration
Spinal cord injuries due to trauma which lead to paralysis
Birth defects such as the Manx syndrome
Now, what is Manx syndrome? You've probably heard of the Manx cat breed. They're most known for being entirely tailless, which means that they just have a short spine. Cats with Manx syndrome have their spine too short.
This condition impacts their spinal cords and nerves, causing spina bifida as well as problems with the digestive and urinary tracts. These include the bowels and bladders, hence the reason for incontinence.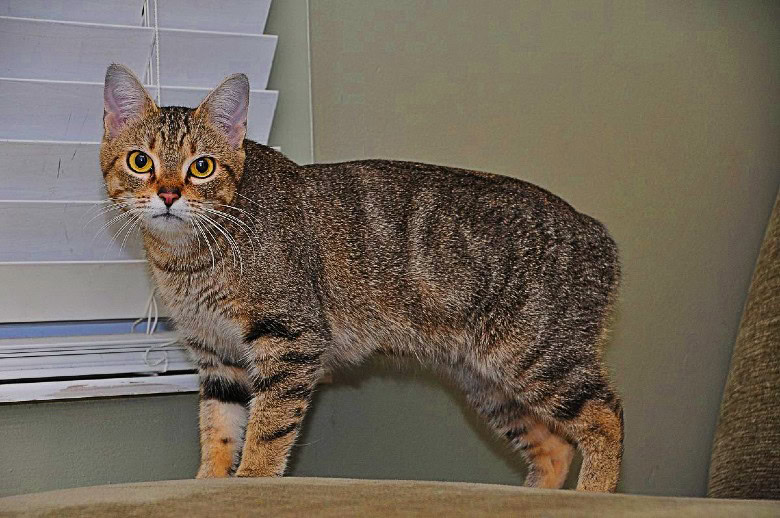 Persistent Urine-Marking
The second reason why a cat might need a diaper is persistent urine-marking or spraying. Early spay and neuter are typically recommended to avoid this kind of behavioral problem.
But, urine-marking can also happen for other reasons. If you have multiple cats in a household, it's possible that at least one of them will spray. Or perhaps, the issue will start after a change in their household/territory.
Cats spraying can also be due to conflicts with other cats. Unlike dogs, cats don't live in a pack. So, your cat might see his housemates, including you – his human slave, or any other cats outside, as a potential threat.
There could be other reasons why a cat might need a diaper, but these two are the most common ones.
Moving on, let's look at how to choose the best diapers for your cat.
What To Look For When Buying Diapers for Cats
The right size
Cats' can vary dramatically in build – some have a slim and slender body, while others are quite chubby. Since most pet diapers are made with dogs in mind, choosing the right size should always be your priority when buying one for your cat.
If the diaper does not fit properly, your cat won't tolerate it and is going to try to get rid of it. In that case, the diaper won't work as expected, adding to your problems.
To get the right size, measure his waist circumference, which is around the area just in front of his back legs. Then, compare it to the size chart of the product. If your cat falls in between sizes, then consider his weight.
Go up a size if he's a heavier cat or go down a size if he's skinny. Also, take note of the diaper's length to ensure that it's the perfect fit.
Your preference – Washable or disposable?
Just like baby diapers, diapers for cats come in varieties. A washable diaper definitely has greater long-term value and is more eco-friendly. It can be used in tandem with a diaper liner or a disposable pad to make it less messy when your cat does his business in there.
On the contrary, disposable cat diapers are already fitted with absorbent padding. And if you're constantly occupied with a lot of stuff, they are most likely the more convenient pick for you. Nonetheless, the choice is yours!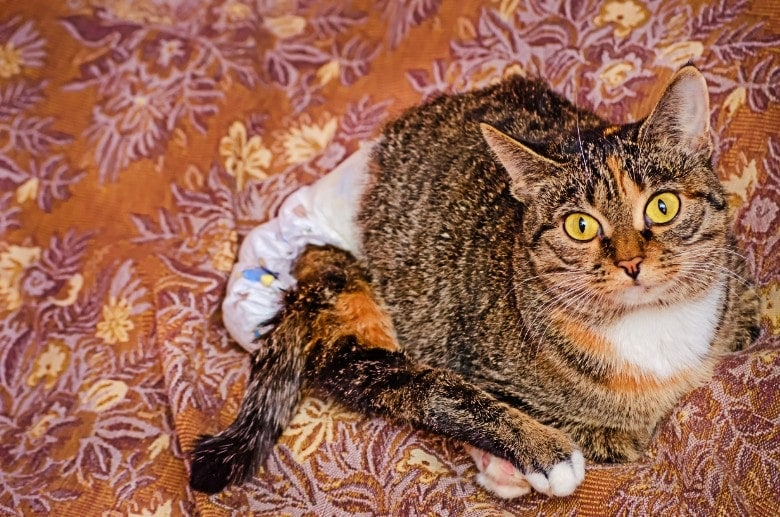 Durable and lightweight material
Next, you'd need to find out what the diaper is made of. Ideally, the material should be durable and lightweight enough for hot days.
On a side note, did you know that cats don't sweat through their paws?
According to Dr Kimberly May, they can't sweat at all! One of the ways your cat removes excess internal heat is through conduction. Meaning that he eliminates extra heat through contact with cooler objects, such as your bathroom tiles.
If the diaper is thick and bulky, it'd disturb this natural process. Making your cat uncomfortable and unable to regulate his body temperature properly. Trust me, that's the last thing you'd want for your cat!
The appropriate position and size of the tail hole
Pet diapers come with a hole for your cat's tail, which shouldn't be too tight to the point that it impedes the free circulation of blood within his body.
Ideally, it should allow just enough room for him to swing his tail.
If the hole is too big, you'll find it hard to strategically position the diaper to avoid your cat peeing right through it. Also, keep in mind that if your cat has a stubby tail, like an American Bobtail, there's a chance that the diaper won't stay in place.
The Best Cat Diapers
Pet Parents' washable diapers are one of the most frequent choices on the market. They come in a variety of colors – grey, rust, and black – and sizes. With the smallest size being 4"-10", these diapers are ideal for kittens and small-sized cats.
The Velcro straps are adjustable, making it easy to secure the diapers around the waist. Also, they won't stick to your cat's fur. Plus point!
In terms of reusability, many cat parents agree that they are super easy to clean with no residual smell! Despite numerous washings, their quality is still intact, and the color hasn't faded at all.
A drawback of these diapers is they are only able to absorb a light amount of liquid at a time. So, while they are great cat diapers for spraying, they are not recommended for cats with urinary incontinence or those who are likely to pee a lot.
Pros ✔️
Cons ❌
● Adjustable Velcro straps
● Sewn-in absorbent pad
● Elastic tail opening
● Machine wash
● Doesn't work well with large volumes of urine
● Getting the right size can be tricky, especially for a chubby cats
● Hard to pull the diapers over a super fluffy tail
Barkerwear washable diapers are very similar to the previous option, except that they're made specifically for cats. Their waste sizes start from 9. These diapers are handcrafted in the USA and also available in no-tail version upon request.
They have triple layers of protection. A polycotton fabric on the outside, a soft liner on the inside, and a waterproof barrier between the layers for optimum leaks protection .
If your cat needs extra protection, I'd suggest you use them with the Barkertime reusable diaper liners, which are sold separately. However, you might want to change them often to prevent urine burn, skin inflammation, and fur loss.
The elastic tail opening makes the process of putting on the diapers easier. Yet, it can be tight if your cat has a fluffy tail. In that case, you'd need to make minor adjustments so that he won't be bothered by it.
One last feature that stands out is that the Barkertime diapers offer a vast range of colors and patterns (make sure to check their Seller page to see all the styles! )to suit every taste. Of course, your flamboyant cat can rock any style anyway!

If you need a cat diaper for spraying only, Bakertime has recently introduced new Pull-up Cat Diapers that will allow your cat to poop normally, while protecting against spraying.
Pros ✔️
Cons ❌
● Made for cats
● Adjustable Velcro straps
● Sewn-in absorbent pad
● Elastic tail opening
● Option for reusable diaper liners
● No-tail option
● Wide variety of colors and patterns
● Fits nicely on chubby cats
● Doesn't work well with large volumes of urine
● Hard to pull the diapers over a super fluffy tail
● Expensive





Prefer to use disposable diapers? Then, consider this product from Paw Inspired. Although they're advertised as dog diapers, the Extra Small size category (12"-17") should be appropriate for most average-sized adult cats.
All the features are pretty standard. Fitted with a tail opening, super-absorbent gel pads, elastic waist, and fur-resistant sticky tabs. You can also get disposable booster pads to increase the absorbency.
The difference lies in the user reviews. Generally, these diapers score really well. However, keep in mind that most reviews are from dog owners.
One concern raised by cat parents is its one-size tail hole. It's so big that even with a small size, their cats can pee right through it. To make matters worse, the absorbent part only starts a few inches below the tail hole.
These diapers might slip off more easily if your cat has a short tail or no tail at all like the Manx! The sticky tabs are also not long enough to get around the circumference – duct tape can come in handy.
Pros ✔️
Cons ❌
● Option for disposable booster pads



● One-size tail hole
●Improper alignment of the absorbent pad
● Tabs aren't long enough
● Sizing can be hit or miss
If you've got a skinny, long-bodied cat such as the Siamese, or Bombays – the house panther, check out the Pet Soft disposable diapers. They offer a wide range of sizes to suit cats with waist 8"-15".
These are also a fairly normal absorbent diaper. However, unlike the one reviewed before, these diapers have long, adjustable tabs made of Velcro. So, they're more likely to stay in place on your cat.
An issue would be their perfume-like smell, which might be a bit too much for some, especially if you have asthma or allergies. Otherwise, these fashionable jeans-like diapers are a good deal for you and your cat.
It seems like these diapers do what they're saying on the packaging, and people are pleased with the outcome. If you need a disposable, then this should be your first choice.
Pros ✔️
Cons ❌
● Suitable for skinny cats too
● Long, adjustable Velcro tabs
● Unique jeans-like pattern
● One-size tail hole
● Perfume-like smell can be offputting

Simple Solution, our final pick, has been in business for over 30 years. Their disposable diapers would be most suitable for large cat breeds as they're made to fit up to 23" waist circumference.
However, since they are designed specifically for dogs, getting the right size for your cat can be tricky. Many cat parents find that these diapers are too bulky even when they fit nicely on the waist.
Regardless, they're praised for being one of the most, if not the most absorbent diapers. Some people say that they're able to hold a whole night's worth of urine. Impressive!
Pros ✔️
Cons ❌
● Suitable for large cat breeds
● Super-absorbent

● One-size tail hole
● Sizing can be hit and miss
● Bulky


Final Thoughts
After shopping online to find the best cat diapers to suit your sick, elderly, or special needs cat, I'm convinced that Pet Soft is the clear winner of this round-up. They offer the right size for most cats to wear comfortably – from kittens to adult cats.
The tail hole isn't elastic, but that's not an issue since you can secure them with their long adjustable Velcro tabs. Aside from being super-absorbent and leakproof, these diapers are made of soft materials to keep your cat comfortable.
Compared to washable diapers, disposables are more convenient for most people. They save some hassle as you can simply throw them away after each use. However, taking into account the huge waste that they create, I personally still prefer to go with reusables if my cats need it.
If you have any questions, feel free to write a comment below or shoot me an email 🙂
If you can't get your hands on any of these cat diapers, you can try using a baby diaper instead. An average-sized cat can typically fit into a newborn size. You'll simply need to cut out a small hole for your cat's tail. Well, as long as it serves the purpose. The video below explains how to do so and how to put the "nappy" on your cat.