If you are in a rush and want to skip ahead to our number one choice for cat carrier backpack look no further than Pecute Pet Carrier Backpack
Playing, exercising, or the good old cuddling. We all love to do everything with our precious kitties.
Going for a hike, camping, or taking an evening stroll shouldn't be any different.
Cat carrier backpacks can make all the difference. They allow you and your feline friend explore the world stress-free.
In this article, we'll review the following products
What Is A Cat Carrier Backpack?
Cat carrier backpacks allow you to carry kitty along with you wherever you go in an easy and convenient way.
They offer comfort and ample space for your cat while on the move.
Types of Cat Carrier Backpacks
Cat Bubble Backpack
The most common backpack.
It has a transparent dome often with ventilation holes.
The dome allows the cat to have a look at the outside world (something they really love to do as we explained in this article on window beds) 
Think of it as an astronaut in a space capsule.
Mesh Backpack
These backpacks have meshed net ventilation.
Some feature nets with zippers.
They have limited light exposure in comparison to the bubble backpack
Open Peep-Window
The backpack has soft nylon sides and a hard shell material with an opening.
The opening allows kitty to take his/her head out of the carrier.
Advantages of Cat Carrier Backpacks
Very Comfortable
Cat backpacks distribute the pet's weight on both shoulders.
Can't say the same for regular carriers that tend to strain one part of the body.
Plus, your hands are free to move, which is not the case when using strollers and leashes.
Safe and Comfortable
A cat backpack doesn't move a lot, unlike handheld carriers and strollers. No swing or jerking around each time you take a step.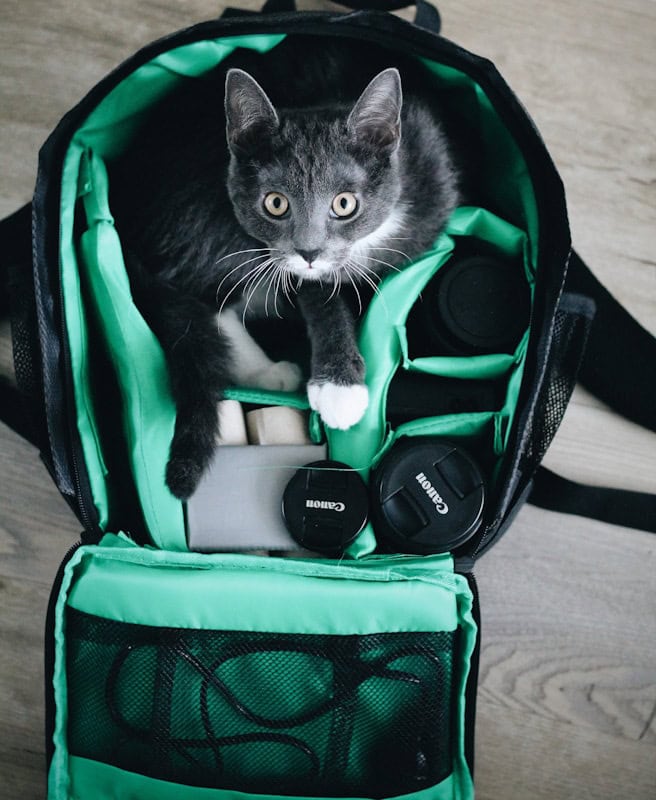 A Better View
Backpacks give pets an elevated view of their surroundings. Besides, what better way to feed your cat's curiosity than showing them the world from your point of view?
Perfect for Outdoorsy Cat Owners
Do you like walking, cycling, hiking, or any other outdoor activity? Cat carrier backpacks are a fun way to introduce kitty to your favorite outdoor activity.
Cons of Cat Backpacks
Cat carrier backpacks tend to have a shorter lifetime than the standard cat carrier bag. 
Backpacks, by nature, tend to be smaller than cat carriers. Caution is advised with claustrophobic cats. Kitties that don't like enclosed spaces may have a traumatic time inside a cat backpack.
Important Features to Consider
Size And Shape
A good backpack should give your pet enough room to turn around and stand without crouching.
There are various backpack shapes you'll find out there. Some stand taller while others tend to be more horizontal. Others have a diamond shape to maximize space.
How many pounds is your cat? Quality backpacks come with weight recommendations. Exceeding the bag's weight limit could affect the bag's sturdiness and safety. Please make sure to select a backpack appropriate for your cat's weight.
Comfort
Remember to check the backpack's base pad.
A suitable cat carrier bag should be stable and provide soft cushioning. You don't want the bag to bend or curve from the cat's weight.
Oh, I almost forgot about the person carrying the bag. Silly me! Your comfort also matters.
Carrying kitty around could strain your shoulders, causing you to wear out quickly. Choose a backpack that features a wide and well-padded shoulder, chest, and waist straps. They help distribute the weight and stabilize the bag, so kitty doesn't get bumped. The padding prevents the straps from 'digging in' after a day's use.
Material
The material used determines how good the backpack will be.
A cat backpack must be durable and built from quality materials that won't fall apart after regular use. Fortunately, most bags use ultra-strong, high-quality nylon fabric or polymer material.
Security
Just imagine your cat carrier opening mid-journey. Horrifying, right? There must be working levels of security to ensure your cat safely stays in the backpack.
The zippers should be locking and the seams reinforced and secure. Some brands usually include a tether to prevent little Houdini from getting away.
Do you own a renowned escape artist for a pet? Maybe avoid designs that open up at the top. Instead, opt for carriers with meshing or transparent plastic opening.
Convenience
It shouldn't be a puzzle to get your cat in or out of the bag.
Extra pockets could come in handy to store treats, water dish, and other necessities.
Airflow
Kitties can get seriously overheated in a confined space.
The backpack should have plenty of space and opportunity for airflow. Mesh windows help keep your pet friend cool as they enjoy the view outside.
Color Options
How about matching the backpack with the cat? I know, color may not be a significant consideration. But it could help, especially if you want to impress your stylish kitty.
The Best Cat Carrier Backpacks Out There
The backpack has 13.4 x 10.6 x 17.3-inch dimensions and measures 24.4 x 13.4 x 17.7 inches when extended.
 It holds pets up to 18lbs, making it the best backpack for heavy cats.
The carrier is made from high-quality oxford cloth that is waterproof and scratch-resistant.
This backpack has space in mind. It has an expandable back design that allows kitty to move around comfortably. It also increases airflow.
The sides have extra pockets for storage.
It has 4 venting holes and a venting design on the left and right sides to ensure air circulation. The three-sided acrylic sheet design provides good light transmission.
The top of the backpack opens for your cat friend to stick the head out. You can snap on the shade cover on hot days to protect kitty from the sun.
Pecute cat backpack has adjustable shoulder straps to help reduce load. Chest and waist straps are also available for extra comfort and stability of the carrier.
The carrier backpack is usable on both sides. The inside bottom mat has a short plush that keeps the kitty warm in the winter. The other side is ideal for the hot summers.
| | |
| --- | --- |
| Pros ✔ | Cons ❌ |
| Built-in retractable hook safety rope | A bit pricey |
| Environment-friendly material | |
| Sturdy and removable bottom | |
| Foldable and Expandable | |
| Lightweight | |
| Multiple storage pockets | |
| Can be used on both sides. | |
It measures 12.2 x 11.4 x 16.5 inches and allows for a broader vision of the outside world.
It's made from solid ABS material and oxford cloth.
The backpack has 9 ventilation holes and a mesh for better air circulation.
The material is also anti-scratch. You don't have to worry about kitty's claws tearing up the carrier.
Henkelion cat carrier fits most pets up to 10 lbs.
Use it as both a backpack and front pack. The straps absorb sweat and relieve pressure from the backpack for more comfort.
| | |
| --- | --- |
| Pros ✔ | Cons ❌ |
| Airline approved | Not waterproof |
| A broader vision of the outside | No chest and waist buckles |
| Can be used as both a backpack and front pack | |
| Pet leash for extra security | |
| Padded shoulder straps for comfort. | |
A bubble backpack which measures 12.6 x 11.5 x 16.5 inches.
It's made of a high-density acrylic material with a breathable exterior.
A cute transparent dome allows your cat to feast his eyes on his beautiful surroundings. It also helps ease the pet's anxiety while on the move.
The backpack is lightweight and you can carry it on the front too.
It comes with a built-in lock to prevent kitty from running away or getting lost when the bag is open.
This carrier has large ventilation holes on the side to promote air circulation.
The manufacturer recommends the bag for cats up to 14 lbs.
This backpack comes with a layer of protective film. Remember to tear it off before use.
| | |
| --- | --- |
| Pros ✔ | Cons ❌ |
| Built-in lock | Not ideal for hyperactive cats |
| Waterproof | |
| Lightweight | |
| Comfortable velvet bottom | |
This is a space capsule pack with 16.5 x 16.5 x21 inch dimensions. It can fit small to medium cats that weigh up to 13 lbs.
The backpack uses high-quality materials that are lightweight and easy to clean.
It has a scratch-resistant polycarbonate shell that prevents overheating.
The carrier features 9 large ventilation holes on both sides for maximum breathability. The clear window gives kitty an expansive view of the environment.
The back easily expands to a large tent bed ideal for camping with kitty.
The pocket on one side is for filling in pet snacks. The little opening on the other side is suitable for reaching and petting the nervous kitty.
| | |
| --- | --- |
| Pros ✔ | Cons ❌ |
| Expandable | Can be stuffy during extremely hot climates |
| Extra storage pockets | |
| Ideal for camping | |
| Adjustable shoulder, chest, and waist straps | |
| Water resistant | |
Texsens is among the brands you can trust when it comes to pet supplies. This company has been supplying premium quality pet carriers for so many years.
A mesh backpack with 13 x 11.42 x 16.73-inch dimensions. It can easily fit cats up to 18 lbs.
3 sides of the carrier have a PVC mesh with a well-ventilated design for optimal airflow. It also offers 1800 vision.
Texsens pet carrier is exceptionally scratch-resistant. The company assures us that the bag can stand up to the scratching or gnawing of even the most stubborn pet.
It comes with chest buckles for extra support.
| | |
| --- | --- |
| Pros ✔ | Cons ❌ |
| Super breathable | Available in one size and one color only |
| 1800 vision | Not waterproof |
| Ideal for medium to large cats | |
| Removable cozy mat | |
| Lightweight but steady | |
| Adjustable shoulder and chest buckles for support | |


Conclusion
The time has come to announce the winner. Drumrolls, please!
The one taking the trophy home is the Pecute Pet Carrier Backpack. It's a genuine all-rounder! Let's start with the carrier's expandable back that gives kitty unlimited playing space. Secondly, the top can opens for your pet friend to enjoy the breeze.
Are you worried about the harsh midday sun? The backpack has a shade cover to keep the harmful rays at bay.
There are extra pockets for the water bottles, waste bags, phones, and other small items. Not to forget the fact you can use both sides depending on the season. With all these impressive features, I am sold!